DO30 Tester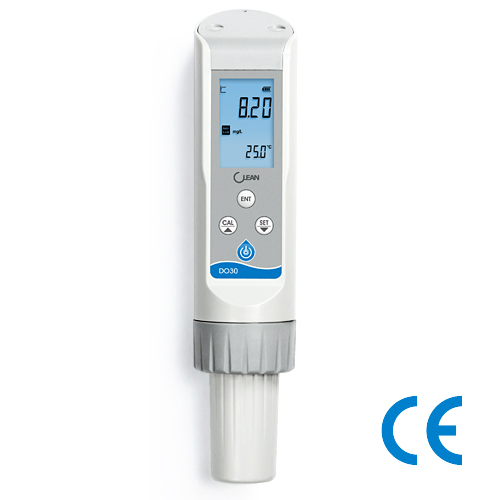 ●
Waterproof and dustproof housing, IP67 rated. Easy operation. Precise & easy operation, all
functions operated in one hand.
●
Unit display: ppm or %.
●
Field throw-out measurement(auto lock function).
●
Automatically compensates salinity / barometric after manual input for increased accuracy.
●
User replaceable membrane cap (CS49303H1L).
●
Large LCD with backlight.
●
Easy maintenance: no tools needed to change batteries or electrode.
●
Self-Diagnostic for easy troubleshooting (e.g battery indicator, message codes).
●
1*1.5 AAA long battery life.
●
Auto-Power Off saves battery after 5 mins non-use.
●
Auto Lock Function
●
Floats on water
Water analysis
Waste water
Aquiculture
Surface Water
| | | |
| --- | --- | --- |
| | Range | 0.00 - 20.00 mg/L; 0.0 - 200.0% |
| | Resolution | 0.01 mg/L; 0.1% |
| | Aaccuracy | ±0.5% F.S. |
| | Temp. Range | 0 - 100.0 °C / 32 - 212 °F |
| | Working Temperature | 0 - 60.0 °C / 32 - 140 °F |
| | Auto Temperature Compensation | 0 - 60ºC |
| | Calibration | 1 or 2 point auto calibrate(0% zero oxygen or 100% in air) |
| | Salinity Compensation | 0.0 - 40.0 ppt |
| | Atmospheric Pressure Compensation | 600 - 1100 mbar |
| | Auto backlight off | 1 minute |
| | Auto power off | 5 minutes without key be pressed |
| | Power | 1x1.5V AAA battery |
| | Dimensions | (H×W×D) 185×40×48 mm |
| | Weight | 95g |
| | Protection | IP67 |