PH30 Tester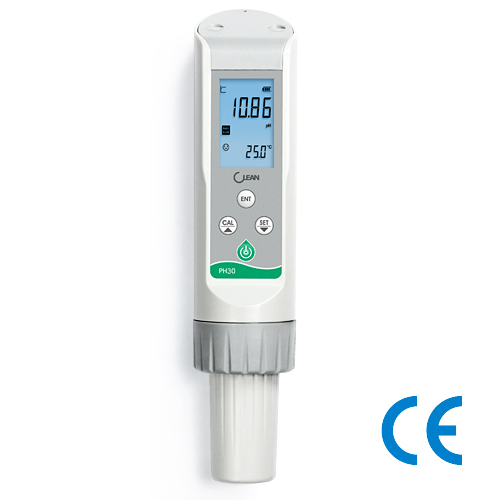 ●
Waterproof and dustproof housing, IP67 rated.
●
Precision easy operation: all functions operated in one hand.
●
Extensive applications: meet your water measurement needs from 1ml micro sample testing to
field throw measurement, skin or paper pH testing.
●
User replaceable high-impedance plane electrode.
●
Large LCD with backlight.
●
Real time electrode efficiency icon indication.
●
1*1.5 AAA long battery life.
●
Auto-Power Off saves battery after 5 mins non-use.
●
Auto Lock Function
●
Floats on water
Water analysis
Lab
Industrial process
Surface water
Range
-2.00 ~ +16.00 pH
Resolution
0.01 pH
Accuracy
± 0.01+1LSD
Temp. Range
0 - 100.0 °C / 32 - 212 °F
Working Temperature
0 - 60.0 °C / 32 - 140 °F
Temp. Resolution
0.1 °C / 1 °F
Calibration Point
Up to 3 (auto recognized)
pH Buffer Kinds
USA - pH 4.01, 7.00, 10.01
NIST - pH 4.01, 6.86, 9.18
Electrode
CS1930 plane pH electrode
LCD
20*30 mm multi-line crystal display with backlight
Temperature Compensation
Auto / Manual
Lock
Auto / Manual
Auto backlight off
1 minute
Auto power off
5 minutes without key be pressed
Power
1x1.5V AAA battery
Dimensions
(H×W×D) 185×40×48 mm
Weight
95g
Protection
IP67