CLEAN PH200 ion Versatile Water Analysis Meter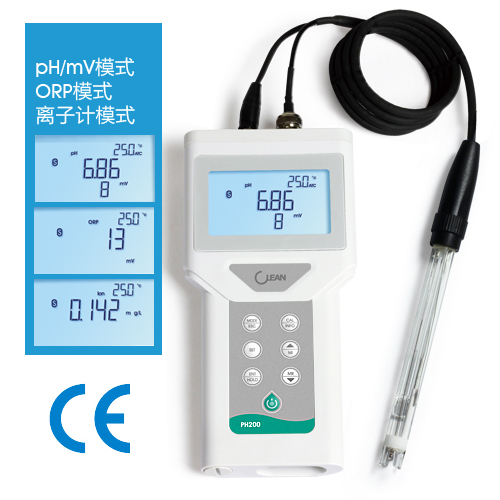 ●
One key to switch among pH, mV, ORP, Ion measuring modes.
●
pH value, mV value, Temperature value with screen display simultaneously, humanized design.
●
℃ ℉ optional
●
Four sets with 11 points buffer combination, covering global standards including US, EU, CN, JP.
●
Two points ORP calibration
●
Ion concentration measuring range: 0.000-99999mg/L
●
Large LCD, with high luminance LED backlight.
●
One key to auto calibration: Zero offset, Electrode offset, ensure the accuracy
●
One key to browse the setting parameters, including Electrode zero offset,
sensor slope and all set parameters.
●
Prompt tone after measurement readings stable(Optional)
●
HOLD Auto Lock function
●
Temperature offset adjust
●
200 sets of measuring data storage
●
Auto power off if no operations in 10 minutes. (Optional)
●
2*1.5V 7AAA batteries. Long battery life span
Water analysis
Lab
Industrial process
Surface water
| | | |
| --- | --- | --- |
| pH | Range | -2.00 ~ 20.00 pH |
| | Resolution | 0.01 pH |
| | Accuracy | ±0.01 pH |
| ORP | Range | -2000~2000 mV |
| | Resolution | 0.1mV ( -999 ~ 999mV ), 1 mV ( <-999 mV or >999 mV ) |
| | Accuracy | ± 1 mV |
| Ion | Range | 0.000-99999mg/L, ppm |
| | Resolution | 0.001,0.01,0.1,1 mg/L, ppm |
| | Accuracy | 1%+1LSD(1 valence), 2%+1LSD(2 valence), 3%+1LSD(3 valence) |
| Temp. | Range | -40.0-125.0℃(-40.0-257.0°F) |
| | Resolution | 0.1°C, 0.1°F |
| | Accuracy | +0.2°C, 0.1°F |
| Battery | Power supply | 2*1.5V 7AAA batteries |
| pH Buffer Kinds | B1 | 1.68, 4.01, 7.00, 10.01 (US) |
| | B2 | 2.00, 4.01, 7.00, 9.21, 11.00 (EU) |
| | B3 | 1.68, 4.00, 6.86, 9.18, 12.46 (CN) |
| | B4 | 1.68,4.01, 6.86, 9.18 (JP) |
| Others | LCD | 65*40 mm multi-line crystal display with backlight |
| | Protection | IP67 |
| | Auto power off | 5 minutes without key be pressed (Optional) |
| | Environment | -5 °C~60 °C;Relative humidity﹤90% |
| | Memory | 200 sets |
| | Dimensions | 94*190*35mm (W*L*H) |
| | Weight | 250g |
Package Dimension : L*W*H 340*275*105mm Weight : 1.5kg
PH200A
MPH200 Meter + CS1010 pH sensor + CT901 ATC Probe + CP337Carrying Pouch
PH200B
MPH200 Meter + CS1020 pH combination sensor + CT901 ATC Probe + CP337Carrying Pouch
PH200P(ORP)
MPH200 Meter + CS2010 ORP Combination Platinum sensor + CP337Carrying Pouch