PH3000 Controller / Transmitter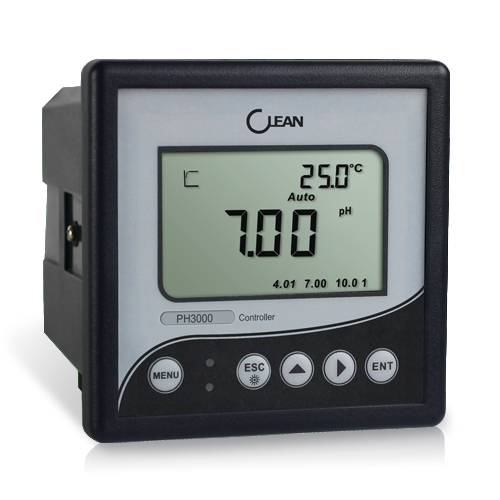 ●
IP65 rated,waterproof and anti-gas,applicable in extreme conditions.
●
High protection against electromagnetic inteference.
●
Menu-driven program that simplifies set-up.
●
Built-in memory backup to ensure that setup parameter and calibration information are not
erased in power-off condition.
●
Scaleable isolated 4-20mA Outputs for pH/ORP.
●
Temperature value offset adjustment.
●
Two relay circuits, users can select high-low control freely. Separately adjustable high and low
set-point hysteresis (dead bands) prevent chattering of relays around the set points.
●
Glass electrode and antimony electrode are selectable to meet different industrial situations or
HF(hydrofluoric acid) measurement situation.
●
LED indicators monitor control status from a distance.
●
Large LCD, with high luminance LED backlight.
●
Double high impedance,configure with differential sensor.
| | | |
| --- | --- | --- |
| pH | Range | -2.00-16.00 pH |
| | Resolution | 0.01 pH |
| | Accuracy | ±0.01 pH |
| | Signal Input Impedance | ≥1012 Ω |
| ORP | Range | -2000~2000 mV |
| | Resolution | 1 mV |
| | Accuracy | ±1 mV |
| Temperature | Temperature Range | -10.0~110.0 °C |
| | Resolution | 0.1 °C |
| | Precision | ±0.3 °C |
| | Temperature Sensor | Pt1000 |
| | Temperature Compensation | Automatic/Manual |
| Signal Output/load | Signal Output | 4-20 mA (Adjustable) |
| | Current Accuracy | 1%FS |
| | Load | <500 Ω |
| Relay Ouput | On/Off | 2 SPST Relays |
| | Output | 2.5A 230 VAC |
| Others | Power | 85~260 VAC or 24 VDC |
| | Working Temperature | 0~60°C |
| | Humidity | < 90% |
| | IP Rated | IP65 |
| | Installation | Panel Mounting |
| | Dimensions | (H×W×D) 108×108×158 mm |
| | Panel Cut Size | 94.5×94.5 mm |
| | Weight | 0.5 kg |
| | | |
| | | |
| --- | --- | --- |
| Model | Specification | images |
| PH3000 | pH/ORP Controller/Transmitter | |
| CS1540 pH sensor | Versatile anti- poison Environmental waste water pH sensor | |
| CS1543 pH sensor | Pure water, tap water, surface water and waste water | |
| CS1549 pH sensor | High Temperature | |
| CS1668 pH combination sensor | Sludge, Viscous Fluids Protein, hydrogen sulfide, Cold Low Ionic Water Silicates, Chromates, Cyanide, Sea water, Brine, Mining, Petrochemical, liquefied natural gas. | |
| CS1568 SNEX pH sensor | Sludge, Viscous Fluids Protein, hydrogen sulfide, Cold Low Ionic Water Silicates, Chromates, Cyanide, Sea water, Brine, Mining, Petrochemical, liquefied natural gas. | |
| CS1768 pH combination sensor | Designed for Harsh Industrial environment Sludge, Viscous Fluids Protein, hydrogen sulfide, Cold Low Ionic Water Silicates, Chromates, Cyanide, Sea water, Brine, Mining, Petrochemical, liquefied natural gas. | |
| CS1778 pH combination sensor | Designed for flue gas desulfurization Traditional porous-liquid-junction pH sensors easy to be failured by reference electrode coating and contamination or fine particle clogging, poisoning. | |
| CS1788 pH combination sensor | Designed for Ultra-pure Water/ Low ion concentration The red SNEX solid-state reference electrode system sustained releases potassium ion and chlorine ion, in addition to two sets of reference electrolyte permeability pores ensure stable and reliable readings. | |
| CS1628 resistant to HF pH sensor | HF concentration<1000ppm | |
| CS1637 pH antimony sensor | HF concentration>1000ppm | |
| CS1728 resistant to HF pH sensor | HF concentration<1000ppm | |
| CS1737 pH antimony sensor | HF concentration>1000ppm | |
| CS1733 pH sensor | General purpose | |
| CS1753 pH sensor | Process pH sensor with temperature compensation and connect to ground. | |
| CS2543 General purpose Platnium ORP sensor | General Purpose | |
| CS2733 Platinum ORP sensor | General Purpose | |
| CS2753 ORP sensor | Designed for strong oxidative solution | |
| CS2628 SNEX ORP sensor | Water quality monitoring, Sea water quality monitoring, Swimming pool, Waste water | |
| CS2668 SNEX ORP sensor | Water quality monitoring, Sea water quality monitoring, Swimming pool, Waste water | |
| CS2768 SNEX ORP sensor | Complex Industrial environment Anti-poison, long life span ORP sensor. | |